Who We Are
The Best In The Business
Hydrohoist of the Carolinas has over 35 years of experience serving the North Carolina, South Carolina, and southern Virginia regions.
Our business is ever growing and evolving with newer and better equipment so you can be sure to trust us with your boat lift project.
Our team is the best in the business. We are well trained and equipped to handle the task at hand.
What We Do
Protect Your Investment
Boating is more than a hobby… it's a way of life.
Whether you have a need for speed or enjoy a slow cruise around the lake, once you've experienced the boating lifestyle you'll be hooked forever.
HydroHoist lifts provide Protection, Convenience and Security to your boat or personal watercraft.
Our dedication to quality products and customer service has earned us the reputation as America's #1 BoatLift™.
New Lift Installation.
The Ultimate Boat Protection
We offer the best product on the market for a floating lift system. Our premier boat lift is the UL2 Ultra Series Boat Lift. From the Plastic tanks to the Robust Galvanized frame, you can rest easy knowing your boat is protected from harsh water conditions. We even have lesser cost options with our refurbished units which includes fiberglass tanks and a completely new steel frame.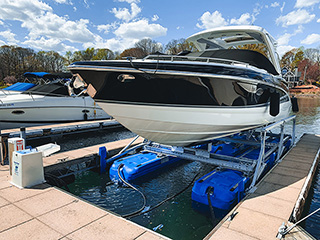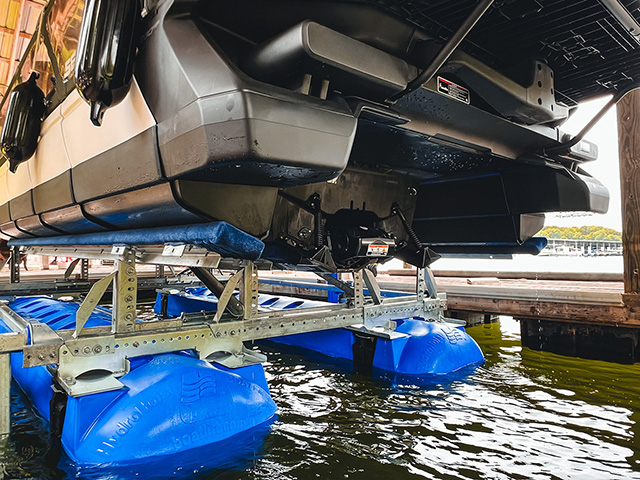 Service and Maintenance
We take pride in offering the best service in the area. If you were to ever experience an issue with your Hydrohoist lift or another brand lift, you can count on us to lend you a hand. We are a quick phone call away from being on your dock to assist you in any way we can. In addition to this we also convert lifts for other boats. This includes Inversions for when going from a V-Hull boat to a Tritoon or vice versa. We also move lifts if needed, whether that be in the same slip to achieve the best balance point, if you were to buy a different size boat, or just moving the slip from one house to the next!